Key Takeaways
One fast-rising star in the scalability race is Polygon, a sidechain network that is slowly becoming a second home to many Ethereum projects.
In the last six months, many Ethereum dApps including Aave and Sushiswap have ported their contracts to this Polygon's Plasma-PoS chain.
Since October 2020, the total value locked on Polygon has grown, from less than $5 million to ~$600 million.
Ethereum's exorbitant gas fees have made headlines all year long. But for every bottleneck lies a business. And one fast-rising star in the scalability race is Polygon, a sidechain network that is slowly becoming a second home to many Ethereum projects.
How Polygon Reduced Costs to Pennies
Since October 2020, the total value locked on Polygon has grown from less than $5 million to ~$600 million at press time, as per data from The Block.
Much of the recent growth on Polygon has taken place on its EVM-compatible blockchain that leverages the Plasma scaling solution. The Proof-of-Stake (PoS) blockchain functions as a bridge for Ethereum and boasts up to 65,000 transactions per second (TPS) with a block time of two seconds.
In recent times, many leading Ethereum dApps have ported their contracts to Polygon's Plasma-PoS chain. The list includes popular DeFi protocols (Aave, Sushiswap), blockchain games (Avegotchi, Decentraland, Atari), prediction markets (Polymarket), and NFT projects (OpenSea, SuperFarm). Infrastructure projects such as Graph and Chainlink have expanded to Polygon as well.
In a conversation with Polygon's co-founder Sandeep Nailwal, he told Crypto Briefing why his project is gaining so much traction.  He said:
"Because of the developer experience and EVM compatibility, many third-party developers are building on the Plasma-POS blockchain. Our design goal is simple, if you are an Ethereum [developer], you are already a Polygon [developer]. We are happy to achieve 99.9% compatibility, be it solidity, developer tooling, wallets, almost everything works the same. You can move your entire app, and assets in a matter of 10 mins."
According to Nailwal, Polygon's developer tooling works out of the box so that Ethereum smart contracts can be seamlessly ported. That way, developers and users get the same functionality as Ethereum.
Aave is arguably the most prominent dApp to integrate Polygon. Aave launched a version of their lending market on Polygon on Apr. 14, and within a few days, the total liquidity exceeded $600 million.
Users of the Aave protocol on Polygon have to pay less than a cent for asset swap, which is a thousand times cheaper than on the Ethereum mainchain.
"What we are seeing is that once users come to Polygon from Ethereum, they do not want to go back. They are loving the idea of feeless DeFi," said Nailwal.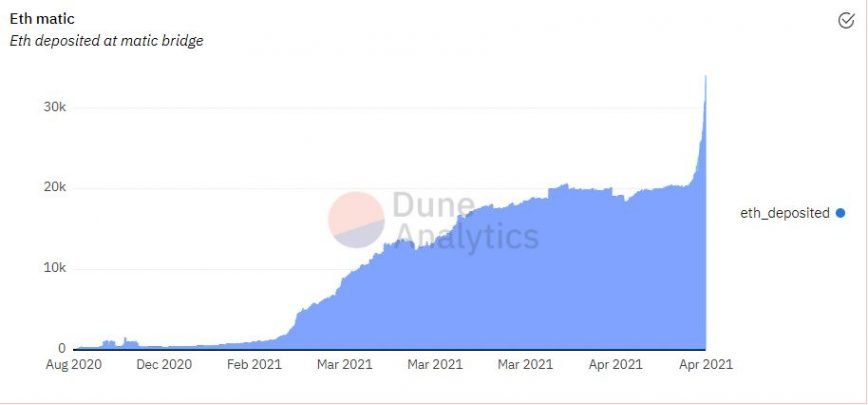 Behind The Polygon Rebrand
Polygon was founded in 2017 by three Indian developers—Jaynti Kanani, Sandeep Nailwal, and Anurag Arjun.
They launched the mainnet in May 2020, and it quickly found traction, particularly from blockchain games such as Neon District and Decentral Games.
In December 2020, the Matic team joined hands with Mihailo Bjelic, an Ethereum researcher, to revamp Matic in the direction of a new scaling infrastructure. This also led to the rebranding of Matic into Polygon.
In its rebranded form, Polygon offers a framework for building and connecting scalable Ethereum-compatible blockchains. When it comes to the project's new architecture, Polygon has been designed to be flexible towards Ethereum scaling.
In addition to its existing Plasma-PoS blockchain, Polygon will support other Ethereum scalability solutions, especially Optimistic Rollups, ZK-Rollups, and StarkWare's Validium chains. Those scaling solutions, such as Rollups, are still in the pipeline and will be implemented later.
"We believe scaling solutions are going to be commoditized. Hence, Polygon is trying to be an AWS-like open-source aggregator of scaling solutions that cater to the needs of all developers," said Nailwal.
Polygon's vision of scalability will grow further through an upcoming launch of Polygon SDK, a software development kit for building dApps on top of the network.
When asked about the rationale behind many scaling solutions, Nailwal said the decision was made to cater to a growing trend of developers wanting to build dApps for their specific needs. In Nailwal's words, Polygon is aiming to be an "aggregator" of Ethereum scaling solutions.
"When Polygon (Matic) started a few years ago, there was a lot of excitement for Plasma. Within a year, the industry shifted to other scaling solutions such as Rollups. We then realized that the industry narrative and technology keep evolving quickly. Now, we do not want to focus on just one technology and be opinionated in our approach," said Nailwal.
Making a Big Multi-Chain Bet
After building scaling infrastructure, Polygon's roadmap includes an interoperability solution on Ethereum.
The project's multi-chain ecosystem is comparable to projects like Polkadot and Cosmos but with the advantages of Ethereum's security. Polygon SDK will also enable an interoperability protocol for exchanging tokens and contract calls both with Ethereum and other blockchain networks.
"We are planning a multi-chain ecosystem and some analysts have called it Ethereum's internet of blockchains. Just like Polkadot or Cosmos, you will be able to build your own chains, and these chains will also have interoperability amongst each other. The only difference is that we depend on Ethereum's security, rather than building our own security to the table," Nailwal said.
In Nailwal's view, the Ethereum-centric strategy for interoperability gives Polygon a significant advantage over competing projects. He argued that other Layer 1 blockchains would struggle to reach the level of security and developer traction as Ethereum.
With so much early momentum, Polygon appears well-positioned to solve one of Ethereum's crucial obstacles.