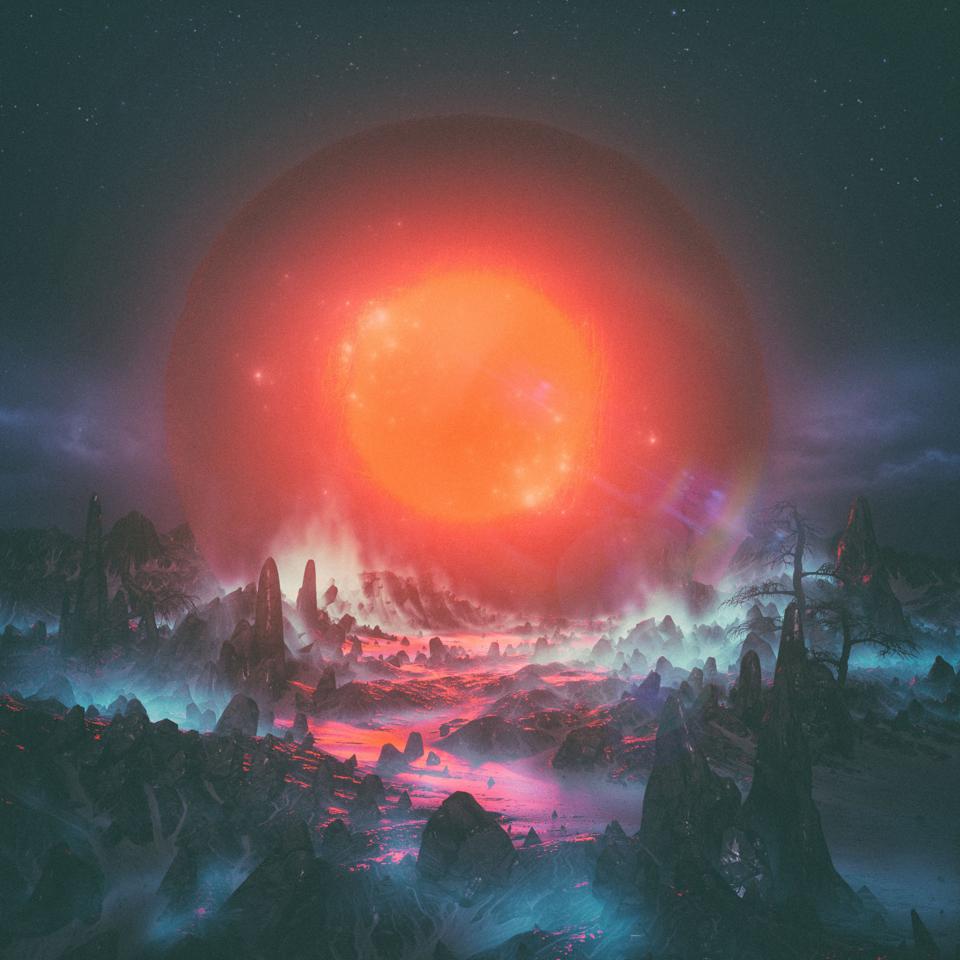 One recurring motif among the 5,000-plus pictures Beeple has drawn and released each day over the past 13 years is the contemplation of what might happen if the earth could strike back against mankind. His work is techno-satirical, and in one such example last year, he imagined a towering, carnivorous Easter bunny exacting its revenge, while another featured a gang of goats led by a towering cyborg goat, which he titled "GOAT Goat." As in, the Greatest of All Time goat.
"That's definitely a theme that I play on quite a bit—us pushing things too far, sort of wrecking things, then nature king of re-taking over," says Beeple, whose illustrations have emerged as the most-valuable pieces in a booming new category of art. "To me, nature is always about balancing and that rebalancing, and continually trying to find some sort of equilibrium."
Beeple will try to push things more toward nature's favor by donating several pieces meditating on the idea to an upcoming online charity auction run by the Social Alpha Foundation to benefit the Open Earth Foundation. The two nonprofits share a similar mission. Hong-Kong based Social Alpha focuses on finding new ways to use blockchain technology, and California-based Open Earth studies how technology could be used to speed up intiatives to fight global warming, including possibly using blockchain's digital ledger to better record successful efforts.
The sale, which begins Saturday, comes at conspicous time. On Thursday, a massive trove of Beeple's work wrapped into a single JPEG sold for a record-breaking $69.3 million at Christie's, the third most-valuable piece by a living artist ever sold at auction. The charity auction will be an immediate next of the strength of the fledging but frenzied market for non-fungible tokens, or NFTs, the blockchain-based technology that Beeple and other digital artists use to buy and sell their work. It is also comes at a time of increased discussion around the climate change impact wrought by NFTs and other cryptoassets due to the technology's massive power demands.
"The existing efforts to address climate change have failed," says Jehan Chu, the Social Alpha cofounder and founder of Kenetic Capital, a crypto investment fund. "And projects like Open Earth are necessary to save our planet."
The auction will taken place on Nifty Gateway, one of the bigger NFT marketplaces, and run for 48 hours. In addition to Beeple, the sale will feature work from digital artists like Sara Lundy, Refik Anadol and Andrés Reisinger, among others.
All the artists who donated work also committed to pay for carbon credits to offset productions of past NFTs, while Render Network, a computer graphics startup, will donate the funds to purchase carbon credits that offset the energy used to produce the NFTs in the auction.