Bitcoin $US60k is now in the books, and crypto markets are staying hot amid a broader lull in global stocks.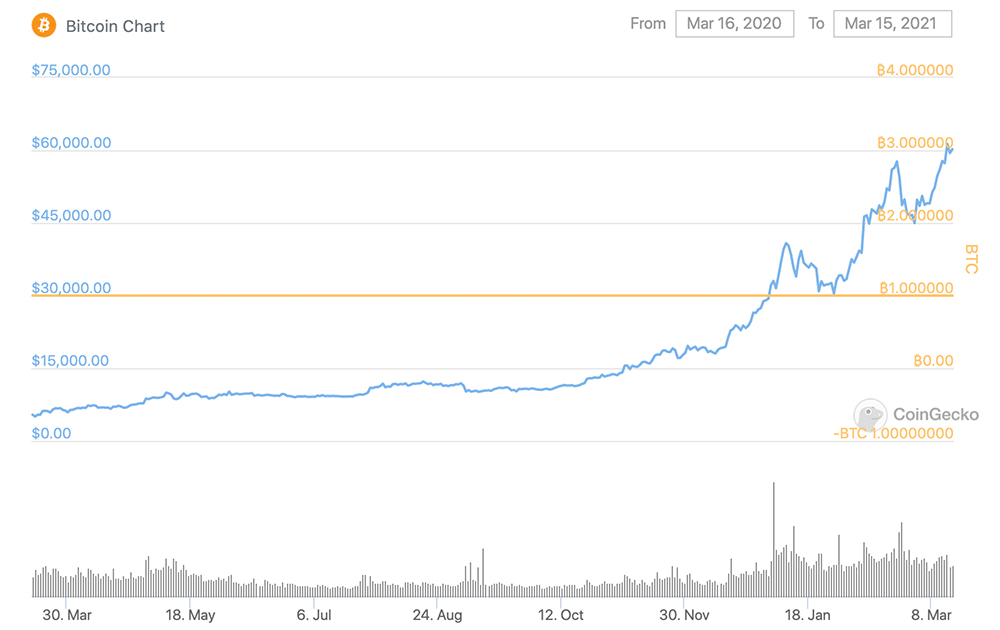 The world's largest cryptocurrency climbed above $US61,000 for the first time ever on Sunday, as $US1,400 stimulus cheques started hitting bank accounts across the US in the wake of the Biden administration's $US1.9tn stimulus package.
While 'Bitcoin $US60k' is a headline grabber, a key indicator of crypto bullishness — alt-coins mooning into the stratosphere — is still a prevalent theme.
Leading the pack was Chiliz, which is up more than 400 per cent over the past week, according to crypto ranking site Coingecko.com.
Chiliz is riding the NFT wave by creating tradable digital 'fan tokens' that are unique to specific major sporting teams.
One of those teams is French football giant Paris Saint-Germain (PSG), which advanced in the Champions League last week with a victory over Barcelona.
In the wake of the win, tradable PSG tokens ripped higher and the club gave a shoutout to Chiliz via its Twitter account, which has 8.8m followers.
Chiliz was one of five crypto token platforms that rose by more than 100 per cent over the past week.
In terms of seven-day price performance, Bitcoin ranked 24th with a gain of around 17 per cent.
Equalling BTC's price performance over the past week was the crypto known as Wrapped Bitcoin — a 2020 stablecoin creation that gives owners exposure to the DeFi ecosystem via a token which a) operates on the Ethereum network and b) is also pegged to BTC.
Speaking of stablecoins, daily crypto trading volume is dominated by Tether — the crypto which is pegged 1:1 with the US dollar.
The Tether network currently has a market cap of around $US38bn, which indicates that it's backed by $US38bn of actual fiat currency.
24-hour Tether volume over the past day came in at $US90.56bn, almost double that of Bitcoin ($US50.16bn).
A financial settlement last month concluded a ~12m legal battle with the New York attorney general's office, which saw Tether and the crypto trading exchange Bitfinex agree to pay a $US18.5m fine.
Following the settlement, Tether and Bitfinex — which are both owned by the same company, iFinex — were banned from operating in New York State.