The latest Chinese digital yuan trial will target 500,000 people, up from 50,000 in the first test last October. Plus, six new regions have been confirmed as Shanghai, Hainan, Changsha, Xi'an, Qingdao, and Dalian. But according to Li Bin, director of the People's Bank of China's Macro-Prudential Management Bureau, there is still no official launch timetable.
Most of the central bank digital currency (CBDC) pilots involved giveaways of a small amount of currency. When the pilot program was first announced, it was restricted to five regions, Shenzhen, Suzhou, Xiongan New Area, Chengdu, and the Winter Olympics locations (Beijing), so that's now expanded to eleven.
"The digital renminbi pilot test adheres to the principles of stability, safety, and control, and focuses on small transactions from invited whitelisted users," said Li Bin. "At present, the number of participants, the number of transactions, and the amount of net exchange are still relatively small. During the pilot process, all parties have a relatively high interest in digital renminbi, and users in the pilot areas are relatively motivated." 
The next phase aims to incorporate feedback, explore applications, 'strengthen the versatility and inclusiveness of digital renminbi' and add features. 
Luohu Shenzhen latest trial, including cross border
The Luohu District of Shenzhen is the latest test area where 500,000 new users will participate. This is the same location as the very first test in October 2020. Participants in the earlier trial can access discounts when they use the digital yuan to make payments. These discounts are being subsidized to the tune of 10 million yuan ($1.5 million) to encourage users to recharge their wallets and enable a more in-depth test. The digital currency can be used at 30,000 Shenzhen stores, with 500 of them offering special discounts.
Luoho is also the site for the first cross border trials. Previously it was announced that the People's Bank of China is cooperating with Hong Kong, the UAE and Thailand for multi-CBDC trials.
The Luoho cross border test involves two types of Hong Kong residents, those who travel to Luoho regularly and those that are only occasional visitors. The distinction is because the regular visitors have a Chinese ID, but occasional visitors only hold Hong Kong resident cards, yet they can open digital RMB wallets 'anonymously' using a Hong Kong mobile phone number. The digital yuan has various wallet types based on the level of know your customer (KYC) compliance, so this type only supports small transactions.
For Hong Kong residents visiting Shenzhen, it reduces the cross-border transaction costs. The next step is promoting "cross-border circulation of digital RMB in Shenzhen and Hong Kong."
Comparisons with WeChat Pay and Alipay
The government is starting to promote the digital renminbi's relative advantages compared to WeChat Pay or Alipay. For example, it's noted that outlets often accept either WeChat Pay or Alipay and not both. In comparison, the digital renminbi will need to be accepted wherever electronic payment is available.
There is also a dual offline mode for the digital RMB, where both payer and recipient don't have internet access, but payments can still happen. This is not possible with private payment providers.
While private payment wallets might access the payment data, the central bank is promoting user privacy. For example, for ecommerce payments, money is put into a sub-wallet so that the ecommerce platform doesn't have access to the personal information. "In short, the protection of user privacy by digital renminbi is the highest among the current payment tools," said Mu Changchun, the central bank's lead on digital currency.
A new hardware wallet
According to Hebei Daily News, the Agricultural Bank of China has a new hardware wallet that looks like an ancient coin, as shown in the picture up top. If users want to exchange money, they enter the amount and click and confirm.
"Special groups such as the elderly can use digital renminbi without the use of mobile phones. They have unique advantages in the transformation of financial adaptation and help narrow the digital divide in financial services," said a representative of the Agricultural Bank of China.
This is a special New Year-themed wallet, but there have been others. Below is a picture of a debit card style wallet from Excelsecu Data that's been used in other trials.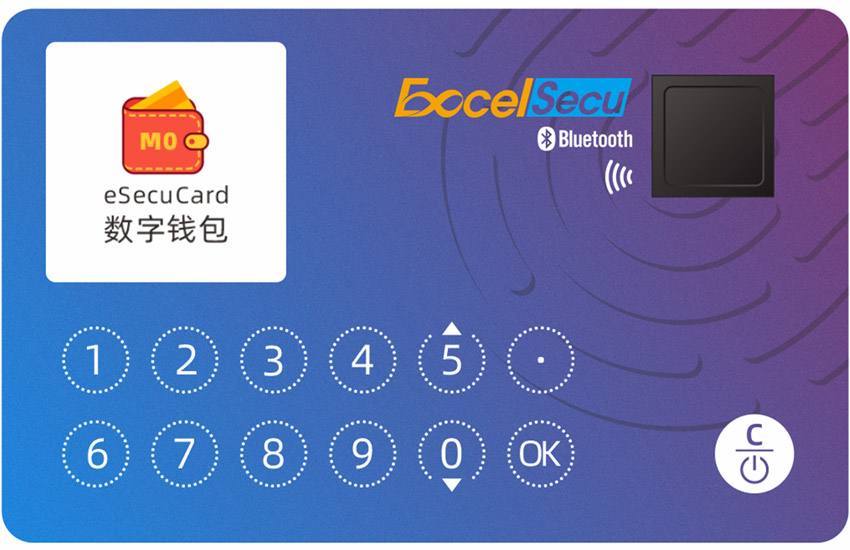 ---