Bitcoin, after roaring into 2021, has now plateaued at around $50,000 per bitcoin, with the price more-or-less treading water over the past week.
The bitcoin price, up almost 500% since this time last year, has exploded higher amid a combination of Wall Street institutional adoption, corporate interest, and retail traders piling into the market—and some think it could have a lot further to run.
Now, recent market data has shown the bitcoin price gap between crypto exchanges Coinbase and Binance, known as the Coinbase premium, could serve as a bellwether for institutional investors or high net-worth individuals buying bitcoin, with traders warned to avoid Coinbase if the premium is high.
MORE FROM FORBESBitcoin Still 'Early' Despite Huge 500% Price Rally-$28 Billion Asset ManagerBy Billy Bambrough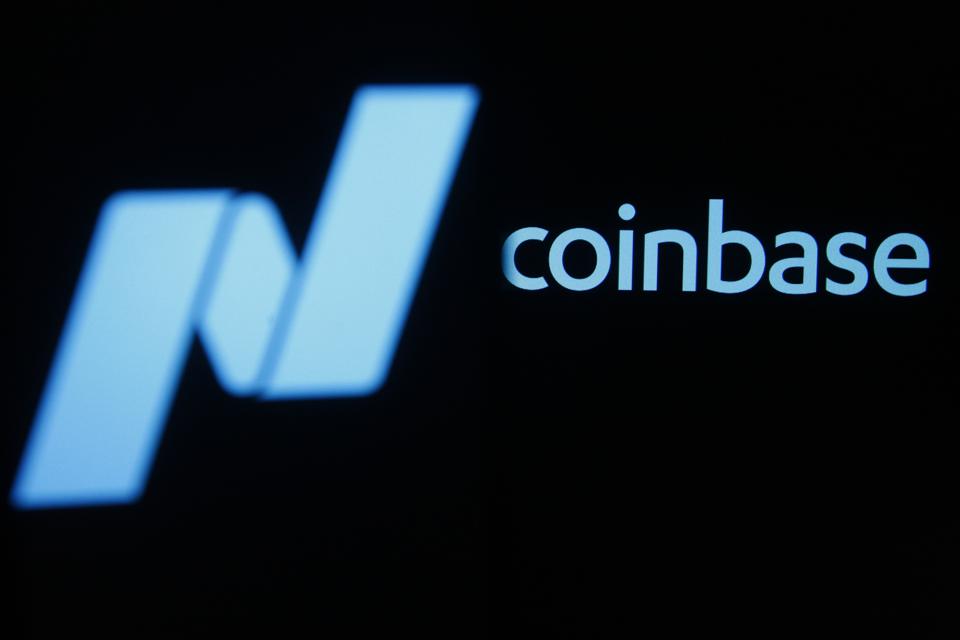 "A significantly high Coinbase premium is a bullish signal," says Ki Young Ju, the chief executive of bitcoin and cryptocurrency market data provider CryptoQuant, speaking via Twitter DM. "It indicates Coinbase whales who might be institutional investors or high net-worth individuals are buying bitcoin."
While a high Coinbase premium could be a bullish signal, it may not be good for bitcoin traders on the platform, which is gearing up for a hotly-anticipated blockbuster stock market debut in coming months. Last week, the San Francisco-based Coinbase revealed the possible events it fears could destabilize the price of bitcoin and ethereum, potentially undermining its business.
"The Coinbase premium varies from time to time, but if there's too much premium, pro-traders should avoid using Coinbase, I would say," Ki Young Ju says, adding traders should watch for the premium spiking to negative, indicating the bitcoin price "is likely to go down as Coinbase whales are selling bitcoin."
Last month, as Elon Musk's Tesla drove a bitcoin institutional bull run with its $1.5 billion bitcoin bet, the Coinbase premium climbed to over $100, according to Ki Young Ju.
Coinbase, with over 40 million users, is one of the world's largest bitcoin and cryptocurrency exchanges and is generally regarded as a cryptocurrency "on ramp" for those new to crypto. Coinbase's institutional trading desk handled Tesla's $1.5 billion bitcoin investment earlier this month, according to media reports that added Coinbase's prime brokerage arm counts more than five Fortune 500 companies as clients.
MORE FROM FORBESTesla Stock Price Tanks 30% Since Buying Bitcoin-Could Netflix Or Apple Really Follow?By Billy Bambrough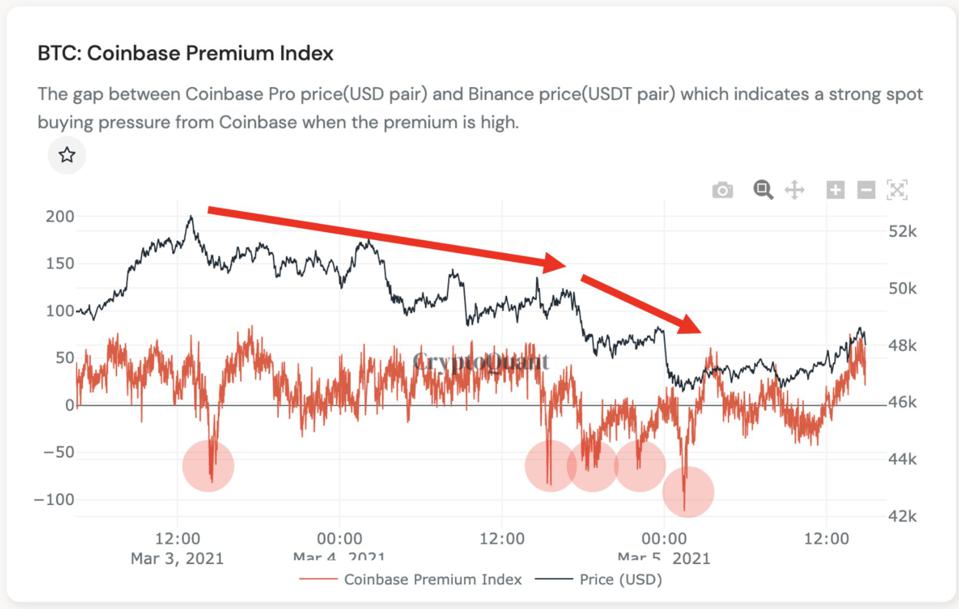 The Coinbase premium has existed for some time, with long-time traders using it gauge the strength of market.
"Look at the Coinbase premium between October 2020 and November 2020 and in May 2019, you'll see how strong bull markets are at first resisted by derivatives players before they all flip and join the 'up only' party," says crypto trader and economist Alex Kruger, speaking via Telegram.