Katherine Tai, the United States trade representative, made a case on Thursday for using trade policies to fight climate change, devoting her first speech in her new position to addressing one of President Biden's top priorities.
"For too long, the traditional trade community has resisted the view that trade policy is a legitimate tool in helping to solve the climate crisis," Ms. Tai said at a virtual event held by the Center for American Progress.
"As we have so often seen with labor issues, there is a certain refuge in arguing that this is all a question of domestic policy and that we need not tackle the daunting task of building international consensus around new rules," she said. "But that dated line of thinking only perpetuates the chasm that exists between the lived experiences and expectations of real people on the one hand and trade experts on the other."
In her remarks, Ms. Tai spoke of the need to address illegal logging and overfishing, and she promised to enforce environmental rules in the United States-Mexico-Canada Agreement.
She also offered criticism for the World Trade Organization, saying it was "considered by many as an institution that not only has no solutions to offer on environmental concerns but is part of the problem."
Ms. Tai's speech comes a week before Mr. Biden is scheduled to host world leaders at a virtual climate summit. Her speech is another example of how the Biden administration is seeking to address climate change across the vast machinery of the federal government — not just in agencies typically associated with environmental stewardship.
Mr. Biden has faced pressure from environmentalists and lawmakers in Congress to put climate change at the center of his trade policy, and his administration has already faced several key trade disputes that could affect the United States' ability to cut greenhouse gas emissions.
Last year, the French government blocked a deal to import liquefied natural gas from the United States because of concerns around emissions of methane, a potent heat-trapping gas. Recent investigations have found that China's production of cheap solar panels, a technology widely seen as crucial for cleaning up America's electric grid, may be linked to forced-labor practices in China's Xinjiang region.
This year, a dispute over intellectual property rights between two South Korean battery manufacturers threatened to disrupt plans to expand electric vehicle manufacturing in the United States. The two companies, LG Energy Solution and SK Innovation, finally reached a $1.8 billion settlement this month before the Biden administration had to decide whether to formally intervene.
In her speech, Ms. Tai called the settlement "a big win for American workers, the environment and our competitive future."
Two years ago, CBS picked the ultimate insider to run its broadcast news division: Susan Zirinsky, whose decades-long tenure at the network stretched to the days of Walter Cronkite.
Now the network is turning to a pair of outsiders — one from the world of newspapers and digital publishing — to restore the fortunes of a news division that still trails its rivals at ABC and NBC.
CBS said on Thursday that Ms. Zirinsky would be succeeded by Neeraj Khemlani, a vice president at the publishing powerhouse Hearst and a relatively little-known figure in the TV news industry, and Wendy McMahon, a former ABC executive. The two will serve as presidents and co-heads of a CBS News division that will also include local stations owned by the network.
In the gossipy world of TV news, neither executive had been rumored to be a candidate for the top CBS role. Mr. Khemlani worked at CBS News from 1998 to 2006 as a producer at its "60 Minutes" franchise, but he left television to work at the news arm of the web giant Yahoo before going to Hearst in 2009.
Ms. McMahon was most recently at ABC, where she oversaw local stations and newsrooms owned by the network.
"This is an opportunity to create a news and information structure that positions CBS for the future," George Cheeks, the chief executive of the CBS Entertainment group, said in a statement announcing the hires.
By: Ella Koeze·Data delayed at least 15 minutes·Source: FactSet
Stocks on Wall Street climbed on Thursday, with shares lifted by a new round of earnings reports and as economic data from the United States added to signs of a budding economic recovery.
The S&P 500 rose 1.1 percent to a record, while the Nasdaq composite rose 1.3 percent. European stock indexes also rose. The Stoxx Europe 600 index increased nearly half a percent, for a third straight day of gains in record territory.
The gains came after the U.S. government reported that jobless claims fell last week to their lowest level of the pandemic, and the latest data on retail sales blew past expectations. About 613,000 people filed first-time claims for state unemployment benefits last week, the Labor Department said Thursday, a decrease of 153,000 from the previous week.
Separately, the Commerce Department said retail sales surged 9.8 percent in March, a strong comeback from the nearly 3 percent drop in February, when previous stimulus money had dissipated and a series of winter storms made travel difficult across much of the United States.
Other signs of recovery came as companies reported earnings. Executives at Bank of America and Citigroup both joined their counterparts at other large financial firms in sounding an optimistic tone about the outlook for the economy. Bank of America dropped 2.9 percent, however, and Citi fell 0.5 percent.
"It's been a better-than-expected start to the year, and we are optimistic about the macro environment," said Jane Fraser, who became Citi's chief executive last month. "This is the healthiest we have seen the consumer emerge from a crisis in recent history."
And Delta reported that it has stemmed daily operating losses, a sign that its planes are fuller and fares are returning to more normal levels. Its shares dropped 2.8 percent, however, after the company said that in the first three months of the year, it lost $1.2 billion as revenue plunged from a year earlier.
Despite the economic optimism, yields on 10-year U.S. Treasury notes dropped sharply to 1.54 percent. On Wednesday, Jerome H. Powell, the chair of the Federal Reserve, reiterated the central bank's intention of keeping monetary policy accommodative for a long time. He said the bank would probably slow its bond-buying program "well before" it lifts its policy interest rate.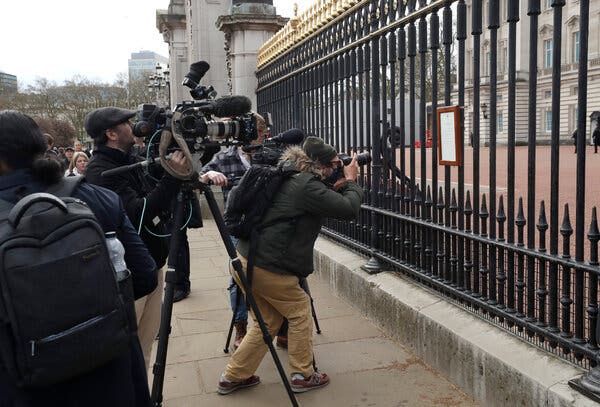 Shortly after Prince Philip, the Duke of Edinburgh and husband of Queen Elizabeth II, died last Friday, the BBC cut away from its schedule to broadcast special coverage across its TV channels and radio stations for the entire afternoon and night.
As popular shows were taken off the air — including Friday's episode of "EastEnders," a soap opera that has run since 1985, and the final episode of "MasterChef," a cooking competition show — the BBC was flooded with expressions of displeasure. To be exact: 109,741 complaints were received, the BBC said on Thursday, making it the most complained-about moment in the BBC's history.
As Britain's public broadcaster, the BBC has a pre-eminent position in British media, and its funding from the public via a license fee puts it in a difficult position. It is frequently attacked for being too liberal, and too conservative, while its access to public funding is controlled by the government, currently a Conservative administration.
The BBC tries to reflect the mood of the nation, but recently a fierce debate about the role of the royal family bubbled up after Oprah Winfrey's interview with Prince Harry and his wife, Meghan, the Duchess of Sussex.
Too little coverage of tributes to the duke and the BBC would have run the risk of not showing proper respect for his life. Still, the broadcaster received so many online complaints that on Friday it set up a streamlined process — a dedicated online form — for people to register their disappointment about the extent of its coverage.
The BBC said on the Thursday that the Duke of Edinburgh's death "was a significant event which generated a lot of interest both nationally and internationally" and that the decision to alter the schedule was made with careful consideration, which "reflect the role the BBC plays as the national broadcaster, during moments of national significance."
Two commercial broadcasters took divergent approaches. ITV, like the BBC, reportedly also saw a large drop in viewers last Friday amid its many hours of Prince Philip coverage. Channel 4 had special programming but then offered viewers a respite by airing a popular show, "Gogglebox," which shows people watching TV, at 9 in the evening.
On Saturday, the BBC and ITV will broadcast the Duke of Edinburgh's funeral, which will not be open to the public because of pandemic restrictions.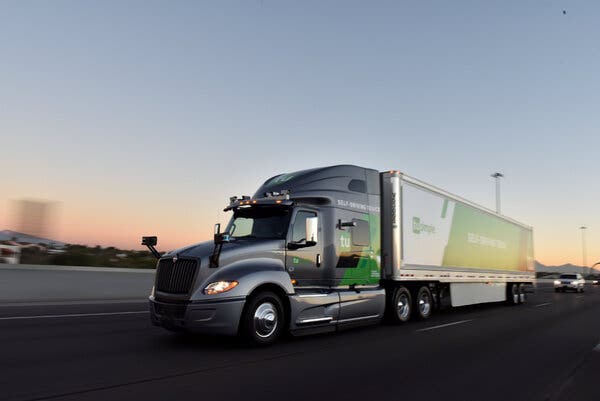 Shares in TuSimple, a developer of autonomous trucks that is backed by Volkswagen and UPS, fell sharply on Thursday after its initial public offering, suggesting that investors have doubts about the company's promise of putting its technology on the road by 2024.
The start-up, which is based in San Diego, raised more than $1 billion in an I.P.O. that valued it at nearly $8.5 billion. Shares started trading on the Nasdaq under the symbol TSP at $40 each around noon, but quickly fell as much as 19 percent before recovering those losses by the time the market closed.
TuSimple and other companies working on autonomous vehicles believe that long-haul trucks are particularly suited for self-driving technology. Routes along highways that trucks travel repeatedly are easier to map and present fewer challenges than local roads, where self-driving systems have to deal with unpredictable stop-and-go traffic, pedestrians and cyclists.
TuSimple's self-driving technology relies on several sensors but is centered on long-range cameras, which it says can map objects within five centimeters of accuracy and see as far as 1,000 meters. The company has a fleet of about 70 trucks, with 50 in the United States and 20 in Europe and Asia. As of late March, the company said it had more than 5,700 reservations for vehicles, which typically require a deposit of just $500.
The company, which is testing its technology with safety drivers on roads in the Southwest, said it aims to start making fully autonomous trips on highways by 2024 through a partnership with Navistar, the truck manufacturer. TuSimple has mapped over 3,000 miles of highways and expects to map the entire 46,000-mile Interstate System over the next three years.
Competition is heating up. On Thursday, Walmart said it was investing in Cruise, the autonomous vehicle division of General Motors.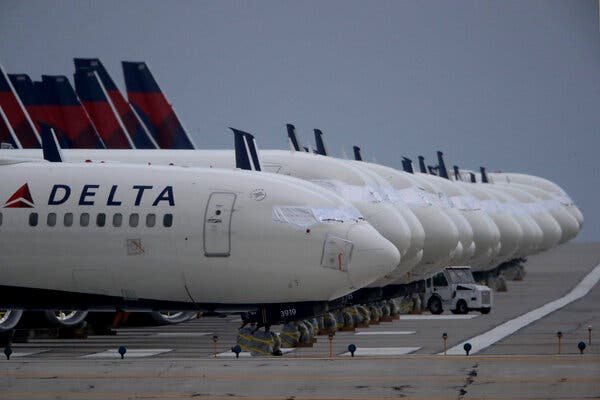 Airlines are still racking up big losses even as ticket sales begin to recover.
Delta Air Lines said on Thursday that it lost $1.2 billion in the first three months of the year and its revenue fell about 60 percent, to $4.2 billion, from the first quarter of 2019.
But the airline said it was optimistic that business would soon improve.
"A year after the onset of the pandemic, travelers are gaining confidence and beginning to reclaim their lives," Ed Bastian, the company's chief executive, said in a statement. "Delta is accelerating into the recovery with our brand stronger and more trusted than ever before."
The airline said it stemmed daily operating losses last month, a sign that its planes are fuller and fares are returning to more normal levels. Well over one million travelers have been screened at airport security checkpoints each day for more than a month, according to the Transportation Security Administration.
"If recovery trends hold, we expect positive cash generation for the June quarter and see a path to return to profitability in the September quarter as the demand recovery progresses," Mr. Bastian said.
The airline said it expected revenue in the current quarter to be down about 50 to 55 percent compared with the same period in 2019. It expects to fly about 68 percent as many people in the quarter as it did in 2019.
The airline said ticket sales for domestic flights had recovered to 85 percent of 2019 levels, though lucrative corporate and international travelers have yet to come back in meaningful numbers. Delta will officially lift its ban on the sales of middle seats next month, allowing it to earn more from each flight.
"In the June quarter, we expect significant sequential improvement in revenue as leisure demand accelerates into the peak summer period and we add capacity," Glen Hauenstein, Delta's president, said in the statement.
Delta is the first major U.S. airline to report first-quarter results. United Airlines and American Airlines are scheduled to do so next week.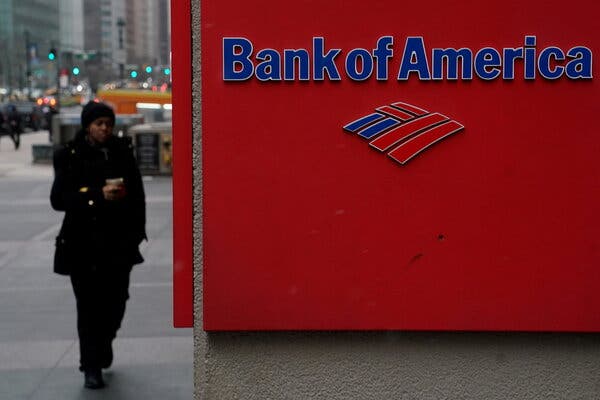 Profit at both Bank of America and Citigroup jumped for the first three months of this year, bouncing back from the lows of the early stages of the pandemic in 2020, as they reduced their loss cushions to reflect an improving economy.
Citigroup more than tripled its profit from a year ago, reporting earnings of $7.9 billion even as its sales fell 7 percent, to $19.3 billion. Bank of America doubled its profit to $8.1 billion from $4 billion. Its revenue of $22 billion was flat.
Like JPMorgan Chase and Wells Fargo, which reported first-quarter results on Wednesday, both banks were aided by the release of the cash cushions they had set aside during the economic downturn last year to absorb potential losses. Citi released $3.9 billion of the reserve it had built up to absorb loan losses, whereas Bank of America's provision for losses decreased $6.6 billion.
"It's been a better than expected start to the year, and we are optimistic about the macro environment," said Jane Fraser, who became Citi's chief executive last month. "This is the healthiest we have seen the consumer emerge from a crisis in recent history." Similarly, Bank of America's chief, Brian Moynihan, noted that "progress in the health crisis and the economy point to an accelerating recovery."
During a call Thursday morning with analysts and investors, Mr. Moynihan noted that March had been a record month for consumer spending by Bank of America customers.
Low interest rates, which have been a central feature of the Federal Reserve's efforts to shore up the economy, dogged both companies. At Citi, investment banking and stock trading were areas of strength, rising 46 percent and 26 percent from the prior year.
At Bank of America, investment-banking fees for advising corporations on deals hit a record $2.2 billion, a 62 percent rise, thanks partly to a doubling of activity in stock underwriting deals, including initial public offerings. Global markets revenue rose 17 percent, which was primarily attributable to gains in the sales and trading of bonds and related products.
As part of its earnings release, Citi announced that would exit the consumer market in 13 countries in Asia and Europe, including Australia, China, India, and Russia, reflecting a desire to focus on the bank's more profitable geographies. In those areas, "we don't have the scale we need to compete," Ms. Fraser said.
Retail sales surged in March, the Commerce Department said on Thursday, as Americans spent their latest round of government stimulus checks and the continued roll out of coronavirus vaccines lured more people back into stores.
The 9.8 percent increase last month was a strong comeback from the nearly 3 percent drop in February, when previous stimulus money had dissipated and a series of winter storms made travel difficult across much of the United States.
The rebound in March sales shows how, a year after the nation's economy locked down to prevent the spread of the virus, consumer spending remains highly dependent on government support. It also reflects that many areas of consumption frozen by the pandemic have bounced back. Sales of clothing and accessories rose 18 percent, while restaurants and bars saw a 13 percent increase.
President Biden's $1.9 trillion American Rescue Plan, which was signed into law last month, provides direct payments of $1,400 to lower-income Americans. Many of these checks began arriving in households toward the end of last month, when economists saw signs that spending was ramping up again, such as increased hotel occupancy and travel through airports.
Economists at Morgan Stanley had predicted that core retail sales would jump 6.5 percent in March, driven by the stimulus checks that started arriving in people's bank accounts around March 17. The investment bank said 30 percent of consumers tend to spend their checks within the first 10 days, suggesting that many other consumers have yet to spend their checks, which could strengthen April sales.
More broadly, American consumers are also feeling increasingly optimistic as more people become vaccinated and venture out more frequently. One measure of consumer confidence, tabulated by the Conference Board, said confidence increased about 20 points in March from February, fueled by increased income and stronger business and employment expectations.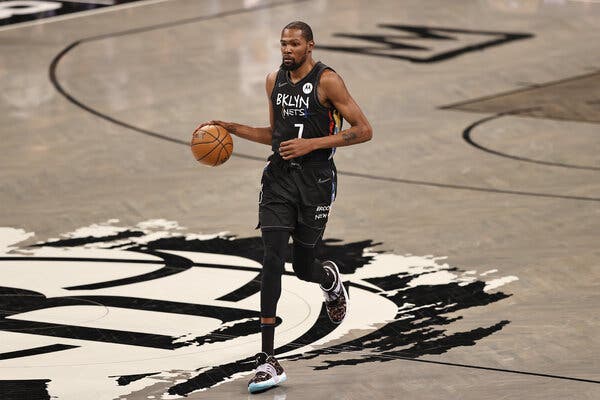 Heavy trading volume greeted the highly anticipated market debut of Coinbase on Wednesday, which ended the day worth some $86 billion. The cryptocurrency company's coming-out party made some insiders very rich, opened up new possibilities for cementing its position in the blockchain economy and blazed a trail for other crypto companies to follow its lead onto the public markets, the DealBook newsletter writes.
The stake held by Brian Armstrong, Coinbase's co-founder and chief executive, is now worth roughly $13 billion. Shares held by its other co-founder, Fred Ehrsam, are worth about $6.7 billion. (Andreessen Horowitz's stake is worth $11.2 billion, while Union Square Ventures' holding is worth $5.3 billion.) Other investors who stand to collect big paper profits — if they held on to their shares — include the National Basketball Association star Kevin Durant, the rapper Nas and Alexis Ohanian, a co-founder of Reddit.
The market listing makes it easier for Coinbase to negotiate mergers and acquisitions. "We want to be able to have a public mark on our stock price because it helps us do more and more M.&A.," Emilie Choi, the company's chief operating officer, told the technology site Protocol. "There's so much innovation happening in the crypto ecosystem, and we can't possibly do it all in-house." But the listing also brings more scrutiny of the company's internal culture, which has included accusations of unfair treatment of Black and female employees and poor customer service.
Coinbase could lead the way for others. The tech investor Ron Conway called Coinbase "the Google for the crypto economy." As crypto goes mainstream, others with similarly big ambitions may follow Coinbase onto the public markets, including rival markets like Binance, the biggest crypto exchange, and Gemini, the company founded by the Winklevoss twins. Exchange-traded funds that hold Bitcoin and other cryptocurrencies directly also haven't yet been approved by the S.E.C., but proponents believe that could happen soon.
Coinbase has come a long way since its humble beginnings. Here's Mr. Armstrong's original Hacker News post from March 2012 looking for a co-founder for his crypto venture, which drew dismissive comments like, "Because bitcoin worked out so well. Have fun with that, dude." Bitcoin was worth about $5 then; it's more than $60,000 now.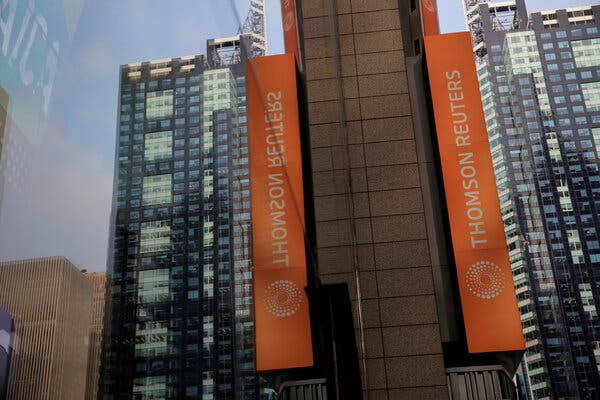 Reuters will begin charging for access to its website as it tries to capture a slice of the digital subscription business.
The company, one of the largest news organizations in the world, announced the new paywall on Thursday, as well as a redesigned website aimed at a "professional" audience wanting business, financial and general news.
After registration and a free preview period, a subscription to Reuters.com will cost $34.99 a month, the same as Bloomberg's digital subscription. The Wall Street Journal's digital subscription costs $38.99 a month, while The New York Times costs $18.42 monthly.
Reuters.com attracts 41 million unique visitors a month. Months of audience research showed that those readers were divided in two separate groups: those wanting breaking news and professionals looking for context and analysis about how news affected their industry, Josh London, chief marketing officer at Reuters, said in an interview.
Reuters will roll out new sections on its website for subscribers in coming weeks that include coverage of legal news, sustainable business, energy, health care and the auto industry. It also plans to introduce industry-specific newsletters.
Mr. London described the new website as "the largest digital transformation at Reuters in a decade." He declined to provide specifics on digital subscription goals but said that it represented "a major opportunity for us."
Arlyn Gajilan, the digital news director at Reuters, said she expected to expand the digital team working on the revamped website.
On Monday, Reuters announced that Alessandra Galloni, a global managing editor, would become its next editor in chief. Ms. Galloni, who will be the first woman to helm the news agency in its history, starts her new role on Monday. She takes over from Stephen J. Adler, who retired after running Reuters for a decade.
Ms. Gajilan said that Ms. Galloni had been closely involved in the new direction of Reuters.com.
"She's a very strong advocate for all things digital at Reuters," Ms. Gajilan said.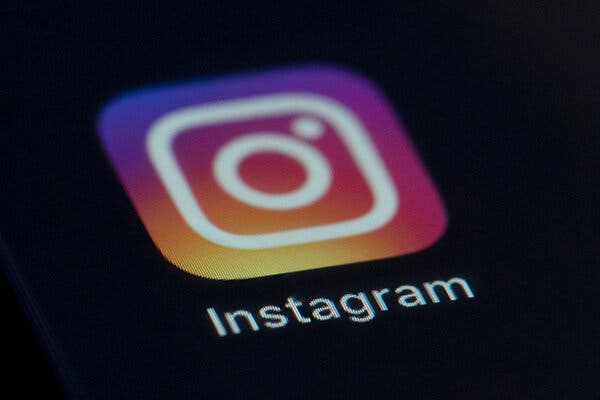 An international coalition of 35 children's and consumer groups called on Instagram on Thursday to scrap its plans to develop a version of the popular photo-sharing app for users under age 13.
Instagram is pushing for a separate children's app after years of complaints from legislators and parents that the platform has been slow to identify underage users and protect them from sexual predators and bullying.
But in a letter to Mark Zuckerberg, the chief executive of Facebook, which owns Instagram, the nonprofit groups warned that a children's version would not mitigate such problems. While 10- to 12-year-olds with Instagram accounts would be unlikely to switch to a "babyish version" of the app, the groups said, it could hook even younger users on endless routines of photo-scrolling and body-image shame.
"While collecting valuable family data and cultivating a new generation of Instagram users may be good for Facebook's bottom line," the groups, led by the Campaign for a Commercial-Free Childhood in Boston, said in the letter to Mr. Zuckerberg, "it will likely increase the use of Instagram by young children who are particularly vulnerable to the platform's manipulative and exploitative features."
The coalition also includes the Africa Digital Rights' Hub in Ghana; the Australian Council on Children and the Media; the Center for Digital Democracy in Washington; Common Sense Media in San Francisco; the Consumer Federation of America; and the 5Rights Foundation in Britain.
Stephanie Otway, a Facebook spokeswoman, said Instagram was in the early stages of developing a service for children as part of an effort to keep those under 13 off its main platform. Although Instagram requires users to be at least 13, many younger children have lied about their age to set up accounts.
Ms. Otway said that the company would not show ads in any Instagram product developed for children younger than 13, and that it planned to consult with experts on children's health and safety on the project. Instagram is also working on new age-verification methods to catch younger users trying to lie about their age, she said.
"The reality is that kids are online," Ms. Otway said. "They want to connect with their family and friends, have fun and learn, and we want to help them do that in a way that is safe and age-appropriate."