Over the last few weeks, blockchain projects focused on supply chains and logistics have seen tremendous growth as the coronavirus-induced economic gridlock begins to loosen and future concerns related to the global pandemic subside.
Three logistics projects that have benefited from the improving economic outlook are OriginTrail (TRAC), Waltonchain (WTC) and Wabi (WABI). Since early February, each has seen its token price increase by up to 300%.
TRAC/USD
OriginTrail is a self-described "ecosystem dedicated to making global supply chains work together by enabling a universal, collaborative and trusted data exchange."
The project was established in 2011 with the goal of providing enterprise users with the ability to streamline their supply chains with added data protection and item tracking features.
Currently, the project has partnerships with big-name companies like Microsoft, Walmart and Oracle.
Since Feb. 1, TRAC price increased by more than 475% from $0.151 to a new all-time high of $0.867 on March 12 thanks to several major protocol developments, including the introduction of staking on Feb. 9.
On March 7 buyers stepped in again as OriginTrail prepared to launch "the world's first multichain Decentralised Knowledge Graph," which will enable the TRAC platform to interoperate with multiple blockchains including Polkadot (DOT), xDai (STAKE), and the Oracle blockchain.
WTC/USD
Waltonchain (WTC) is another supply chain-focused protocol that has seen significant gains since early February. WTC price increasing 436% from a low of $0.343 on Feb. 1 to a high of $1.64 on March 11 as the trading volume surged from a daily average of $4 million to over $300 million.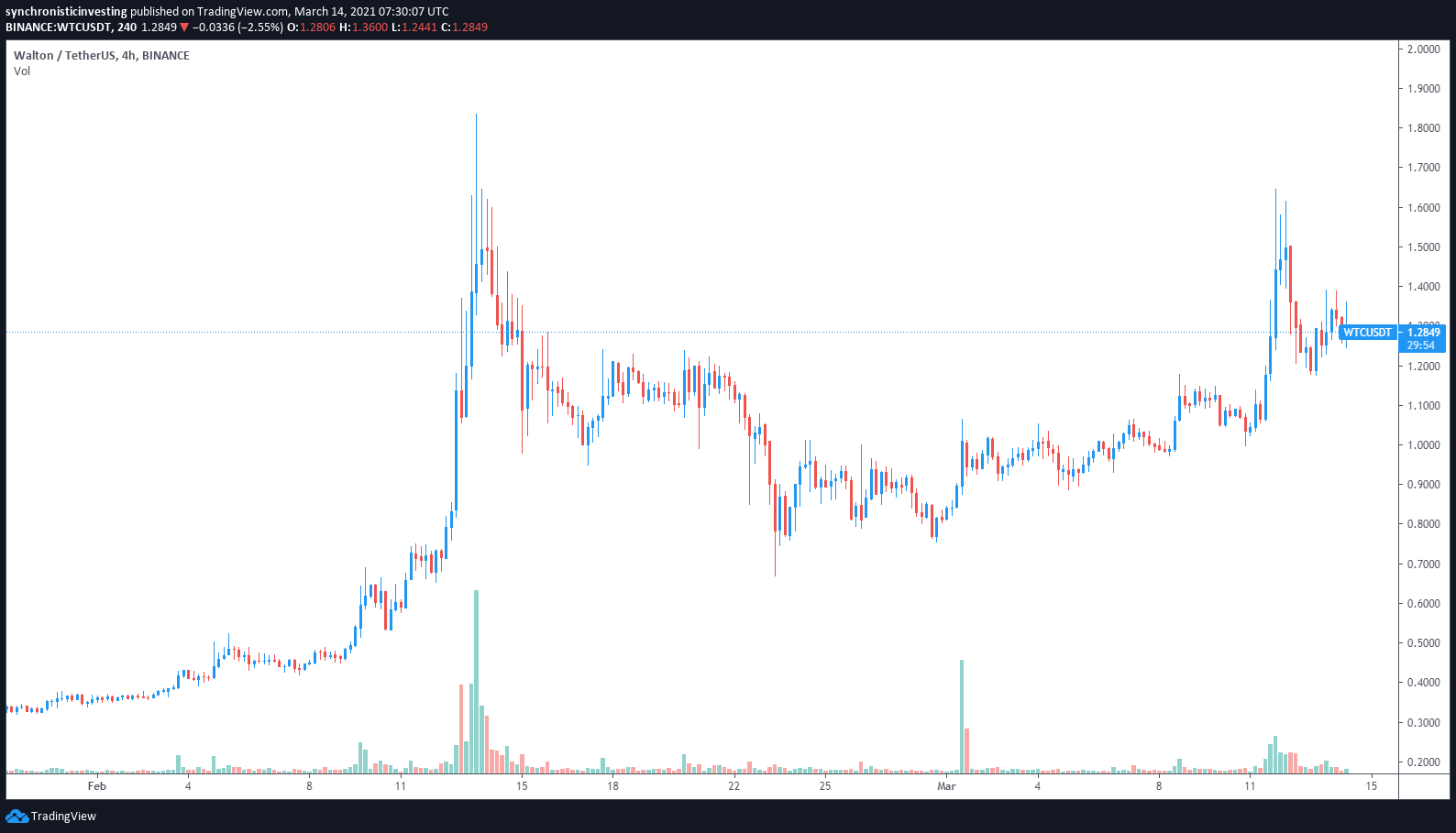 Waltonchain is focused on creating an ecosystem that combines blockchain, RFID technology and the Internet of Things in order to enhance operational efficiency for supply chain use cases.
One recent major development that may have kicked of WTC's current rally was the successful upgrade of the protocol's cross-chain center which enables interactions between data on different blockchains, including Ethereum (ETH) and Fabric.
The update also introduced a variety of new features that will be enabled by Waltonchain's parent-child chain architecture, including the creation of an NFT product platform as well as a suite of DeFi products such as a decentralized exchange, a liquidity aggregation platform and an insurance pool.
These developments demonstrate the need for projects to expand functionality to appeal to a wider range of cryptocurrency investors. The addition of NFT and DeFi capabilities helped bring renewed energy to the community and provided a lift in token value.
WABI/USD
Wabi (WABI) is a supply chain ecosystem that connects brands and consumers by enabling the seamless, fair and confidential exchange of information.
In the last month, WABI price has increased more than 320% as it rose from $0.95 on Feb. 1 to a high of $0.399 on March 12. 
Currently, the protocol is preparing to launch a new B2B marketing solution with a focus on markets based in Asia. 
The reopening of supply chains after a year of disruptions brought on by the COVID-19 pandemic appears to be the most significant factor connected to the future success of WABI and other supply chain and logistics-focused platforms.
On a sector-wide level, interoperability with other blockchain platforms has been one of the primary drivers of the rally in supply-chain projects in 2021. As the global economy begins to open back up and supply-chains are reestablished, platforms that facilitate smooth global trade could see further upside. 
The views and opinions expressed here are solely those of the author and do not necessarily reflect the views of Cointelegraph.com. Every investment and trading move involves risk, you should conduct your own research when making a decision.