SafeMoon, a token on Binance Smart Chain widely recognized as a TikTok meme coin, is seeing massive volatility after its huge gains of the past week.
According to data from Dex.guru, which tracks altcoins on various blockchains, the price of SafeMoon has dropped by nearly 50% in the last two days, from $0.0000074 to $0.0000045.
Does the SafeMoon rally have any strength?
SafeMoon is a cryptocurrency on Binance Smart Chain that started out at a low market capitalization of around $50,000. The price and market cap of SafeMoon went parabolic after growing popularity on TikTok.
According to Dex.guru, the price of SafeMoon rose from $0.00000029 to $0.0000074, more than 2,200%, in merely three weeks.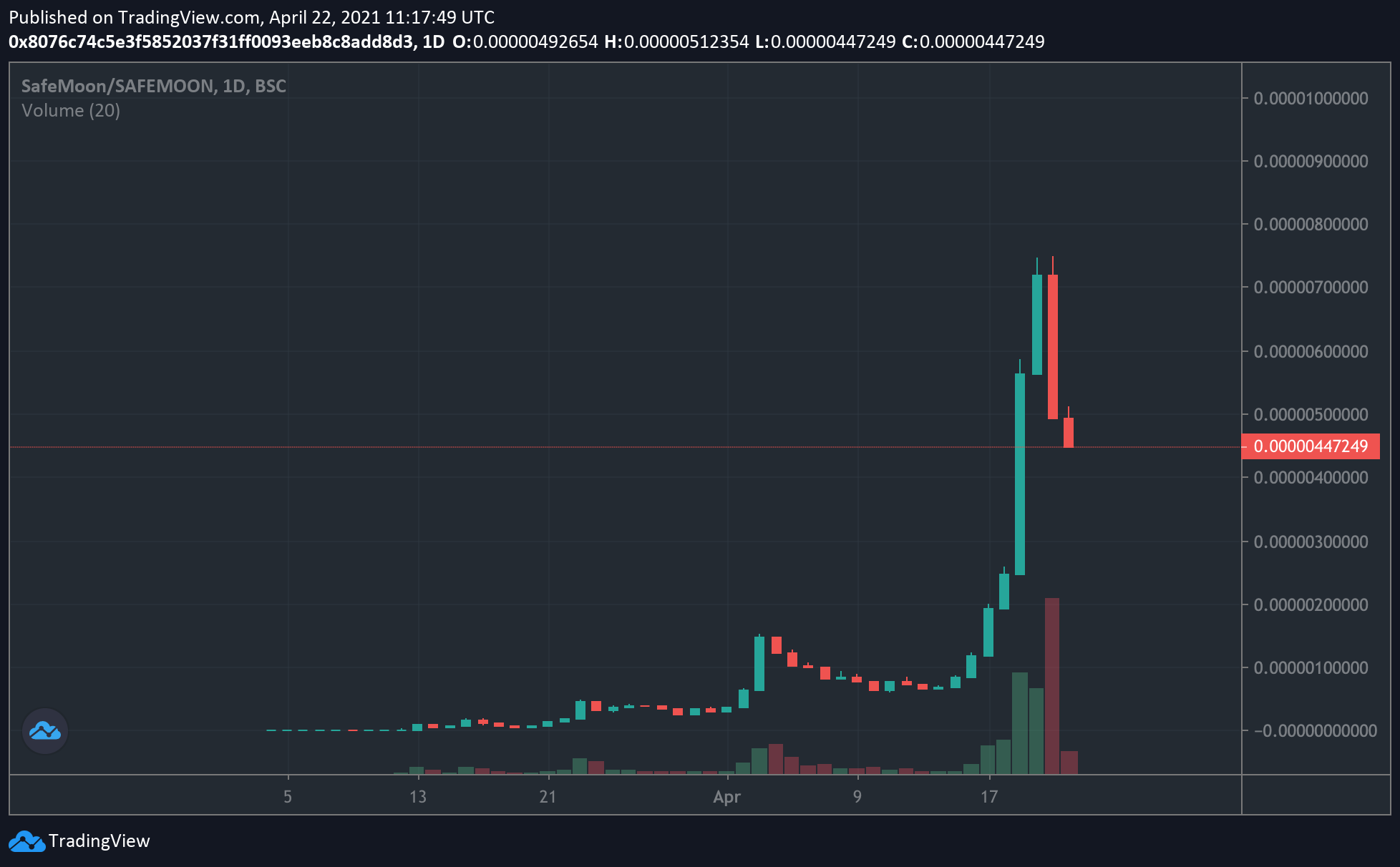 Whether there is any substance or a fundamental catalyst behind the SafeMoon rally remains to be seen.
On April 22, the SafeMoon team announced that the cryptocurrency is being flooded with listing offers from large Asian exchanges.
The team said one exchange in Asia currently in talks with SafeMoon is the 36th-largest in the world.
The team said:
"#SAFEMOON is currently inundated with exchange offers, a large Asian exchange is imminently being announced… this will allow Asian communities to acquire Safemoon, the exchange has $857 MILLION 24 hour trading volume and is the 36th LARGEST in the world."
Nevertheless, traders emphasized the massive volatility of SafeMoon despite its relatively high liquidity compared with other tokens that are not listed on major exchanges.
Cantering Clark, a derivatives trader, said that the correction of SafeMoon restores balance in the universe, implying that the rally was not sustainable.
Woke up to see balance restored in the universe.

Bye Safemoon players. pic.twitter.com/oUvlEd2JiS

— Cantering Clark (@CanteringClark) April 21, 2021
Luke Martin, a well-known cryptocurrency trader, described the price trend of SafeMoon as "unSAFEMOON" after it dropped 65% in a short period on April 22.
unSAFEMOON pic.twitter.com/A5w4Y4v6U4

— Luke Martin (@VentureCoinist) April 21, 2021
One reason why rally might fade
SafeMoon rallied strongly within a period of a few weeks, surging from near zero to $5 billion in valuation at its peak.
Cryptocurrency researcher Larry Cermak noted that a recent SafeMoon livestream had 50,000 viewers. 
But Cermak also pointed out that if the interest around Binance Smart Chain persists, BSC could struggle to meet the surging user demand, which then could lead to higher fees that may drive users away.
He said:
"DeBank is saying that PancakeSwap had 700k unique addresses today and the SafeMoon livestream had 50k live viewers. Wtf is going on. I am very sure about one thing though — BSC won't be able to handle the current activity for much longer and will eventually be unusable. When ponzis start consistently losing money, people will lose interest too. Only question is what happens after that."
As Cointelegraph reported, PancakeSwap — the biggest automated market maker on Binance Smart Chain — overtook Ethereum's user activity as demand skyrocketed at the peak of the SafeMoon rally.