The last 10 days have been nothing short of impressive for Dogecoin (DOGE), which rallied by more than 500% to a new all-time high at $0.45. Even after a 15% correction, the powerful rally catapulted Dogecoin's market capitalization above well-established financial institutions like ING, Barclays and Credit Agricole.
The meme-driven cryptocurrency was pushed higher by multiple Twitter posts from Elon Musk, CEO of Tesla and SpaceX — and the second-wealthiest person alive. Musk is not the only billionaire businessman to support the cryptocurrency.
Whether or not there are fundamentals behind the meteoric price hike, Dallas Mavericks owner Mark Cuban has also publicly defended DOGE. The Dallas Mavericks even accepts it for merchandise sales.
Is Dogecoin worth more than Citigroup or Morgan Stanley?
While the Dogecoin community constantly roots for the $1 target, many fail to acknowledge that the current 129.6 billion supply will grow by 20% in five years. Thus, $1 per 1 DOGE would result in a $156 billion market capitalization, or double the current valuation of Binance Coin (BNB).
To show how outrageous the proposed $1 target is, there are currently 92 tradable assets surpassing a $156 billion market cap. Citigroup, Morgan Stanley, Unilever and Shell are all $150 billion market-cap companies and, therefore, would be below Dogecoin if somehow its fanbase manages to push its value above $1.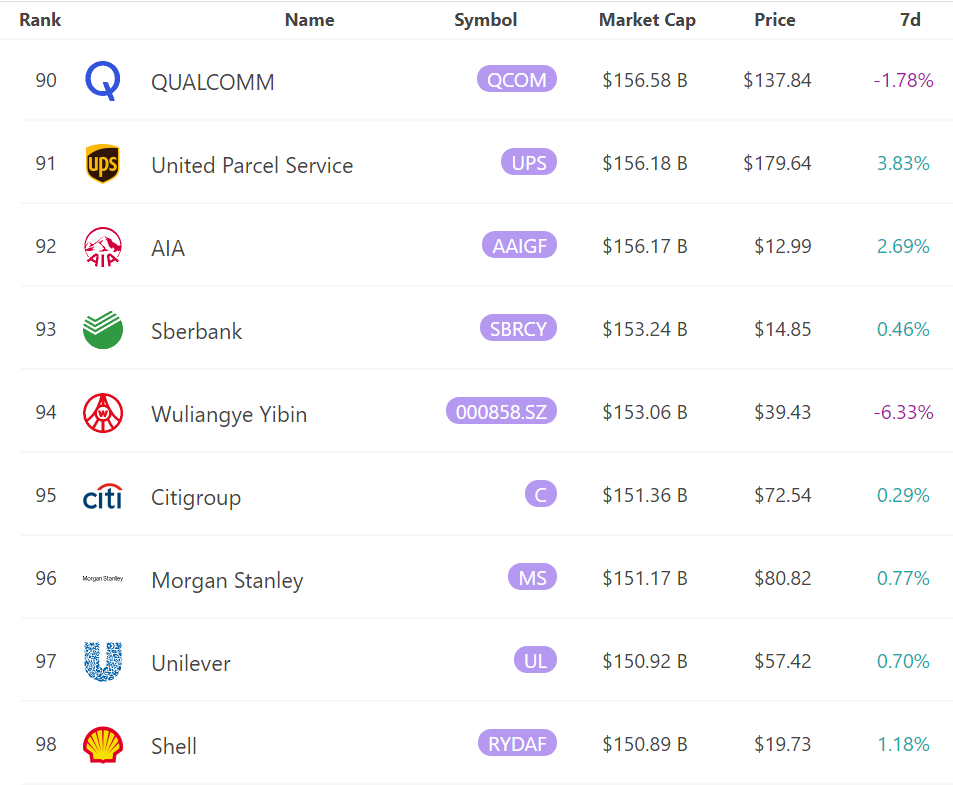 It is worth noting that institutional investors can open short positions and bet on a price decrease in those assets, whereas Dogecoin futures are not available for United States-based traders. It is listed neither on CME nor Bakkt, meaning that betting against DOGE is not an option for professional traders.
Inefficiencies will fade as markets evolve
As the cryptocurrency market grows, institutional-focused exchanges will offer altcoin derivatives, creating a more efficient market. Meanwhile, comparing Dogecoin's market capitalization to more established banks provides distorted figures.
While some claim that new regulations are needed to avoid these inefficiencies, one must remember that Gamestop shares rallied over 860% in January.
Even though Gamestop has been unable to generate a profit over the past six years, the sheer frenzy caused by social network-coordinated investing drove its market capitalization above $24 billion, which is higher than the National Bank of Canada.
In theory, no intelligent investor would intentionally choose Gamestop over a bank that consistently generates more than 2 billion Canadian dollars per year in profits. Nevertheless, market inefficiencies will cause momentary distortions.
Similarly, Dogecoin investors might make history by reaching $1, but this valuation is unlikely to hold as institutional traders get a hold of shorting instruments.
The views and opinions expressed here are solely those of the author and do not necessarily reflect the views of Cointelegraph. Every investment and trading move involves risk. You should conduct your own research when making a decision.