While the dollar stabilized against other majors with the USDX moving slightly higher, EM pairs continued to move against the greenback with the USD/MXN pair falling for the first time in almost two months below 20.0 and even the USD/RUB pair was seen lower despite the recently announced trade restrictions by the United States.
Equity markets traded quite mixed on Thursday and Friday morning. While some European indices like the Germany 30 or the Europe 50 reached new records, Asian indices traded almost unchanged with the China A50 just recovering most of its intraday losses, while the Japan 225 (Yen) is on track to end this week for the second time in a row in the red. US stock market indices were slightly in the red by Friday morning after reaching new records on Thursday with indices like the US Tech 100 and US 500 on track to close positive for the fourth week in a row.
The retracement in crypto markets on Friday night caused the total crypto market cap to fall again under $2.3 trillion. On a daily basis the performance of Dogecoin remains quite outstanding, while on a weekly basis the coin gained almost three hundred per cent. Among the top ten highest market cap coins the weekly performance of Bitcoin at just over plus five per cent is seen as rather timid and at the bottom of the scale compared to altcoins like Ripple and Litecoin.
On Friday inflation and trade balance data can be expected from the EU, while in the US statistics on housing starts and permits as well as the University of Michigan consumer sentiment index for April will be published.
EUR/USD
With the dollar stabilizing, the EUR/USD pair moved moderately lower on Thursday and Friday after an unsuccessful test of the 1.20-mark. The euro performed quite mixed against other majors with the EUR/CHF pair also moving lower, while the EUR/GBP pair reached a new seven weeks high by Friday morning, pushing above 0.87.
Consumer price index (CPI) data released in Germany, France and Italy on Thursday was mostly where analysts expected it, namely continuously higher compared to the previous months. It is expected that the euro zone CPI due by Friday morning will also follow that trend.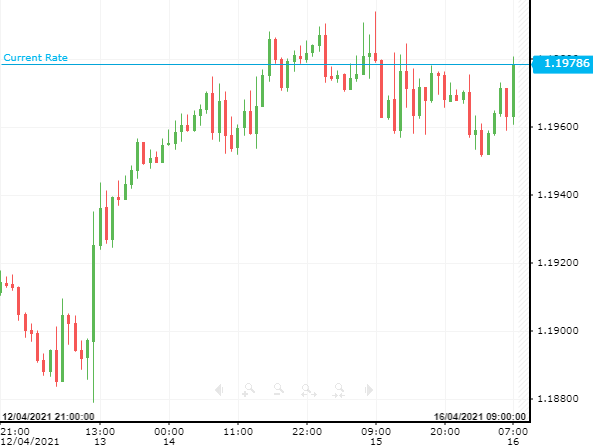 Gold
Gold had its best trading day in weeks with the price moving 1.4 per cent higher on Thursday. Other precious metals including silver and platinum also moved higher, while palladium reached its highest level since February 2020, when market prices reached their last record.
Fundamentally the weakening of the dollar over the past two weeks as well as lower yields in bond markets might have had influence over precious metal markets as well. Other factors might include expectations of rising inflation as well as continued increases in government debts.
On Friday the US CFTC publishes its weekly Commitment of Traders (COT) report for futures based on gold, silver and other commodities. Last week the number of speculative net long positions strongly increased from 167.5 thousand to 189.5 thousand.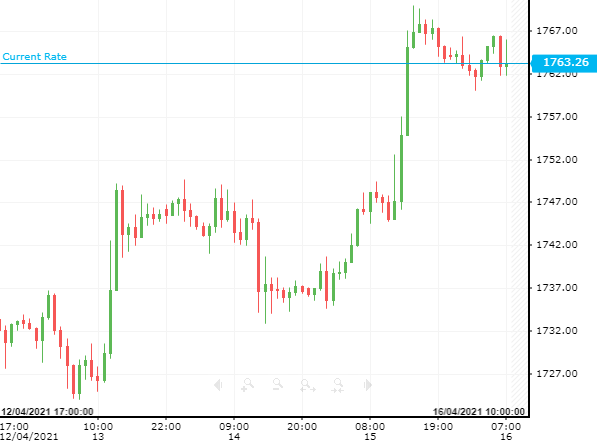 WTI Oil
By Friday morning oil prices were up again, continuing on the trend seen in all the previous days of this week with WTI crude oil prices reaching a new four-weeks high.
Price movements were supported earlier this week by reports of falling crude oil inventories according to data from the API and EIA later on Wednesday indicating a weekly crude oil inventory decline by almost 5.9 million barrels.
On Friday the weekly US Baker Hughes Oil Rig Count can be expected, which over the previous weeks showed a steady sign of improvements in terms of producing activities in the US.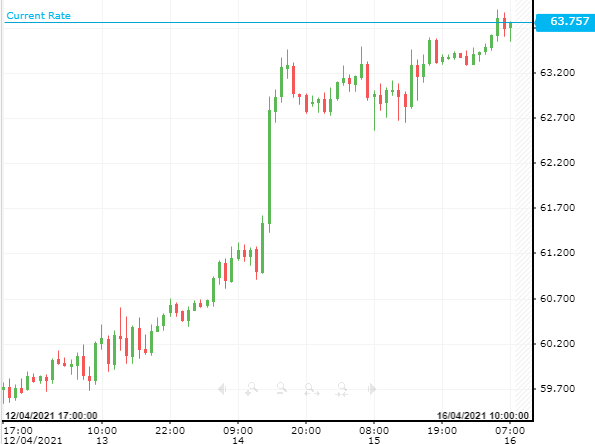 US 500
Sentiment in the US stock markets was overwhelmingly positive on Thursday with indices like the US 500 and US 30 reaching new record levels, while the small cap index US 2000 lagged behind and closed almost unchanged. With the yields on US Treasury notes, such as the 10 year benchmark falling clearly below 1.60% some sectors might have been affected as well. Real estate stocks (US Real Estate ETF +1.82%) outperformed most other sectors, while banks (US Banks ETF -0.46%) lagged behind.
Chip stocks such as AMD (+5.60%) and Nvidia (+5.44%) were some of the best performing assets in the S&P 500 index on Thursday. On the other hand companies in the travel industry like Norwegian Cruise Line (-3.19%) and Delta Air Lines (-2.66%) were trading weaker despite the overall positive market sentiment.
The earnings season continues next week with companies including IBM and Coca-Cola releasing their earnings on Monday, followed by Procter&Gamble, Lockheed Martin and Philip Morris on Tuesday.